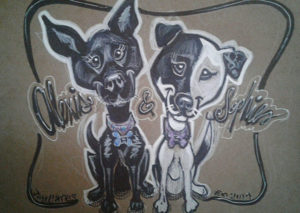 Our own pet care provider Eric Oliver is a talented caricature artist and will create that unique, one of kind gift that will be treasured forever. Only $35 (plus a $10 shipping & handling fee) for an 8″ x 10″ Black and White caricature.
Just send a photo to joy@joycares and we'll give you a call to get your credit card payment over the phone. Eric will get busy to create that special gift that any pet parent will love!!!! We'll deliver your caricature via USPS Priority Mail. IF you live in our service area we can also deliver your caricature to your door step (for all of you last minute shoppers) up until NOON on Christmas Eve. (A delivery charge of $15 will be added to your purchase.)
Click below to make your purchase using our secure Paypal Checkout!