There will be times when your pet counts on you for special care. Our service is geared towards geriatric animals and animals with special needs. Special needs include insulin injections, fluid therapy, oral medications plus more. We also offer alternative therapies such as Healing Touch, Essential Oils, Tuning Forks among others listed below.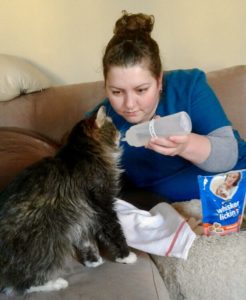 JoyCares is highly recommended by area vet offices and has Registered Veterinary Technicians on staff and a Specialized Care Manager who consults with clients to help determine the best ways we can help and provide care that your pet deserves.
We can incorporate our special needs services with other services offered.  For example, you can travel with piece of mind knowing that your pet's needs are being met. 
SPECIAL CARE
Post surgical, diabetic management, seizures, renal failure and help with congenital disorders.
GERIATRIC/SENIOR CARE
Mobility assistance, diet and hygiene.
ALTERNATIVE THERAPIES
Kristin Payden our Specialized Care Manager has 25 years' experience as a registered veterinary technician and is also a Healing Touch Practitioner for animals.
JoyCares offers the following alternative therapies; Healing Touch, Tuning Forks, Telepathic Animal Communications and Essential Oils.
HOSPICE
Palliative pain management and in-home care.
END OF LIFE
In-home guidance and assistance in the end-of-life process.