The STS-2 healing system is a two part process…
Part 1 – the scanner physically scans an animal's body externally to specifically locate where any problems exist. When living tissue is damaged or injured there is an immediate drop in the electrical impulses in that location. This means there is an INCREASE in the ease with which the electrical impulses can move thru the area.
Part 2 – the scanner emits a very tiny electrical current called a micro current which is like a nerve impulse in your body that is used to find an issue with muscles, joints and tendons.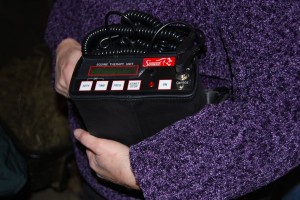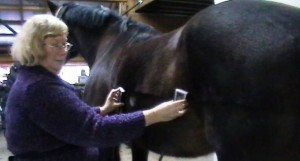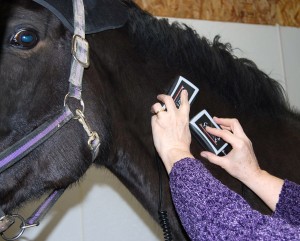 Issues usually relate to an out of balance condition within the animal's body and the treatment will help the overall condition of the animal. Once problem areas are located on your pet, red and Infrared lights are used to stimulate injured area of the animal to heal faster and stronger than normal.
More Sumerel Light Therapy details – click here
Photos – Diane & Dancer
Diane, Alt Therapy Provider
Chippendale Dancer using the STS2 Healing light system with red and infrared lights to alleviate pain throughout his body.  He is a champion dressage horse and was off on his gate and somewhat lame but the owner didn't know the cause.  Once we used the STS2 System throughout his torso he was walking much better and did not seem sore any longer.  The lights worked and no further holistic healing was necessary.