Specialized Care Manager, Kris Payden
RVT – Registered Veterinary Technician
HTP – Healing Touch Practitioner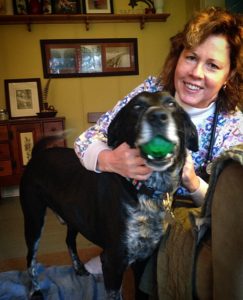 Kristin Payden, RVT & HTP, is a graduate of The Ohio State University with an Associate of Applied Science Degree in Horse Production and Management. Also a graduate of Columbus State Community College, with an Associate of Applied Science in Veterinary Technology.  Kris has over 25 years experience as a registered veterinary technician (RVT) in small animal medicine.
In addition to traditional veterinary medicine, Kris's interest in alternative and holistic techniques for animals lead her to become a Healing Touch Practitioner (HTP).  Using an approach of holistic and traditional methods have proved to be invaluable in providing care for her clients.
As a little girl Kris's love for animals was already a big part of her life, writing her first book at the age of 6 entitled, I Want To Be a Veterinarian When I Grow Up.  Her family always had dogs, cats and a variety of pocket pets that she loved and cared for. When she turned 14, Kris' family moved from suburban Michigan to their family farm in Wooster, Ohio.  Having 1,500 pigs, ranging from newborns to adults plus growing their own corn have taught her commitment and responsibility, solidifying her passion for a life of animal care. Living on a farm also introduced Kris to the world of horses. She will tell you how her dad promised she could have her own horse if they moved to a farm.  That sealed the deal and her love of horses continues to this day. Kris still rides and shows dressage.
Kris and her husband Scott live in Medina and are pet parents to one cat, two dogs and two horses.  She enjoys traveling, reading, gardening and cooking.